I moved into my brand new place on December 7th, I am in LOVE. This apartment has never been lived in, the refrigerator has never had food in it, no one has ever used the shower. It has a balcony - always wanted one.
So, because I have always wanted one, and it seems the easier "room" to do. I would like to have most of the decor be handmade. However, it is lacking in personality. I have decided that I am going to add some funkiness to it, make it mind.
This is my balcony now:
As you can see, not exactly dazzling.
However, when I get done the goal is for every room to have a gypsy/bohemian/an artist must live here feel to it.
I like the thought of this low table and the cushions to sit on, perhaps for the kids. I can have my girl Shannon sew them for me.

i have always loved prayer flags, and although I am not the best seamstress, I think these will be easy enough to construct.
For the table, I am thinking hand painted, perhaps tarot or zodiac themed.
LOVE LOVE LOVE these mushroom things. Unsure of where to get them, but the search is on!!! Of course I will have plenty of plants out there, once the weather permits.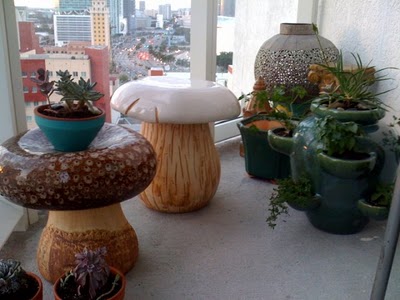 I like the idea of using an old ladder for plant shelves - very nice.
For privacy, the plan is to have drapes of fabrics that will close around the deck, but that allow light in and can be opened.